You know when you're browsing the web and you come across a website that makes you think, "Wow, this is a REALLY beautiful website" — why is that?
What makes that website so aesthetically pleasing to your eye that makes you think that way?
Well, there's several aspects you could pick apart to look at this from a really granular perspective, but for the sake of today's newsletter, we'll look at just a few.
I think it's a pretty universal opinion that Apple's website is stunning — in every facet. So today, we'll look at the MacBook Air page.
Compelling Graphics
The first aspect of the Apple webpage that stands out to me as a contributor to the beautiful design is the compelling graphics.
Apple does a phenomenal job of displaying images and animations that completely draw you in.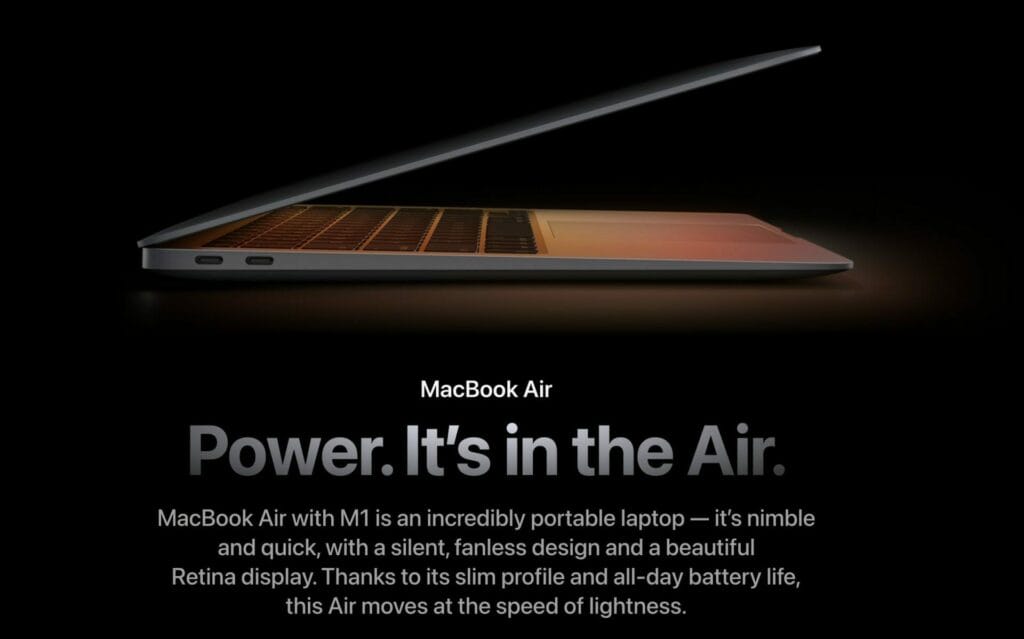 Just taking a look at the hero image (above), you can see this graphic of the MacBook Air — glowing, thin, and eye-catching.
On page-load, it even animates — showing the laptop opening.
Scroll down a little farther, and you'll see a grid-display of new graphics:
The imagery shown on the laptop is vivid, pulls you in, and so crisp.
They truly draw you in to the product, and highlight it in the best way possible — but not just for "looks" but for an incredibly pleasing experience as you discover the features and benefits of this laptop.
Any website you've come across and thought, "Wow!" — I guarantee you their images and graphics are outstanding.
Consistency
Any truly stunning website has consistency in common. Through every page of the site, you'll find the same typefaces and colors, as well as consistent spacing and layout.
You can screenshot just about any small section of Apple's website and be able to tell — it's from Apple.
They are the perfect example of displaying consistency, and done so well can help you obtain brand recognition.
In the screenshot above, you can see the red line grid I placed on top — which shows the perfect layout and structure you'll find with every section on their webpage.
Consistency helps more than just design — it's readability, it's how easily you digest a page, it's creating a predictable experience for your user to navigate.
True consistency brings balance and harmony to a website that isn't always recognized.
Easy to Read
Now this might seem non-design related, but it is.
Any compelling website is going to be easy to read as a user.
This means:
Short, concise headings
Clear call to actions
Paragraphs are broken up into smaller, bite-size chunks
Widely-known vocabulary (not industry jargon)
Apple does a great job at turning computer-nerdy specs into words that the everyday user can understand:
You may not know what a "Retina Display" really means. But read on, and you'll find, "Text is sharp and clear. Colors are vibrant and beautiful."
Those are words anyone can translate and understand.
Plus, the hierarchy in their headings, by contrasting the white with the gray and varying font size, ensures you're reading what's most important first.
—
I understand that looking at Apple's website is a far fetch from your everyday small business. But there are basic principles used here that can be applied effectively for any website to be successful.
You just have to know how to use them, where to use them, and be consistent.
I'm open to new design projects if you're looking to take your website from boring-to-Apple-esque.
See you next time!