Do you know how to optimize your Google Business Profile? Or are you wondering what the heck a Google Business Profile even is?
Well, if you're the latter, you need to get onboard! It is an absolute must for every business and the single most important factor in gaining visibility in local search results on Google. Not only that, it brings instant information to your customers such as business hours, link to your website, reviews, and so much more.
Have you been in business a while? No worries — you can still claim your Profile and start taking advantage.
Keep in mind — the Google Business Profile is not a replacement for your website. It's only meant to create a snapshot and presence on Google with local searches.
So how do you take advantage of the free Google Business Profile? I'll walk you through how to optimize it so it'll help you gain visibility and inform your customers properly.
Let's dive in!
Create (or claim) your Google Business Profile
First and foremost, you need to create the Profile. You'll want to visit the Google Business Profile site. This will take you to a setup screen to search for your business to either create the profile, or claim it.
As you are searching, you will see business names pop up. If yours does come up in the list, and it says someone has already verified your business, you need to request ownership of the Business Profile.
Fill in every section
As you proceed through the Google Business Profile setup, be sure to be as thorough and detailed as possible. This is going to help customers find you, and differentiate you from other businesses.
With your business category, choose the one that is closest and most accurate to what your business offers.
After that, you'll have to input information about your location. This is important! You do not have to have a physical storefront to have a Google Business Profile.
If you do not have a physical storefront that customers walk into, you can select to not have your location show. What it will do instead is have you select your Service Area.
You can enter zip codes, cities, county, and more — be sure to include all areas you serve locally. Keep in mind — this is just for local business only. So if you happen to offer services to people in other states, you do not want to put that in your service area. Only the local audience that's closest in proximity to you.
Now, if you are a brick-and-mortar business, you can go ahead and enter your address of your business location. Similar to the previous step for those that select the Service Area, brick-and-mortar businesses can choose the local area they might deliver to.
Verify your business
Once you have completed your Google Business Profile, you will then need to verify it. This is done via a mailed postcard to the address you provided, and should come within a week or so.
That postcard will contain a special code that you'll need to input on your Profile to fully verify you are the true owner.
It can be a frustrating step, especially if you have trouble getting the postcard, but it's a necessary and final step to getting your Business Profile published for everyone to see — so it shouldn't be ignored.
How to optimize your Google Business Profile
Now that you're verified and up-and-running with it, you must take ongoing action to keep your Google Business Profile optimized. Follow these tips below to ensure that you'll be taking full advantage of this free online profile for local search.
Consistency with contact info
When inputting your phone number, address, and website, you MUST be consistent with other profiles you have online. Having one phone number on your Facebook, and a different one on your Google Business Profile can be very confusing and misleading.
Not only that, but always ensure your business hours are consistent as well. As a customer, trying to find your hours and seeing different results, can be extremely frustrating.
Consistency in this information is super vital, and could be the difference between a new customer or a lost one.
Update, update, update!
Just like you post to Facebook, Instagram and TikTok, you should be regularly updating and posting to your Google Business Profile.
So what does that mean when it comes to your GBP (Google Business Profile)?
Well, on GBP you can publish local posts in the form of offers & sales, events, regular updates and more. These are placed in a sort of "feed" on your GBP that users are able to see and read.
Having a sale? Publish a blog post? Or just a regular update (like new hours)? Use this publishing feature to post all of these types of happenings in your business.
Additionally, you can upload photos to your GBP. This can be of your work, your products, you and your team, or anything fun! The photos act as visual leverage for your business so customers can see what you're all about.
What I typically recommend is set yourself a reminder at least once a week to update your Google Business Profile — add in a photo or two, and create a new post. Over time, this once a week habit can really build up a great profile.
Collect & respond to reviews
A huge part of your Google Business Profile is your customer reviews. You should be actively asking customers to leave their positive reviews for you on Google. Imagine searching for a local business, and 5 of them come up in the map:
Now, in my personal thought process, when there are that many different options, I look straight at the reviews.
In this example, I see Salons by JC has a great overall rating, however only 36 reviews. Double Image Hair Salon and Aqua Bella Day Spa, on the other hand, have a slightly lower (yet still very good) overall rating score, but a much higher number of reviews.
I would probably skip over Salons by JC, and go with those that have a much higher number of reviews first. Many of your customers might be doing the same exact thing.
Therefore, you can see how important it is to have reviews on your Google Business Profile.
In addition to collecting reviews, you will want to be very proactive in responding to ALL of them — good or bad. This shows that you are a responsive and caring business owner, and pay attention to your online reputation as well as what customers think.
If it's a positive review, a simple "Thank you for your business!" can go a long way. If it's a negative review, leave a thoughtful and professional response, such as, "I am sorry for your experience while at our business. We appreciate the feedback and hope you'll come back to give us another try."
Do not ignore reviews, as they can be a break or make situation for a new customer.
Answer questions
Another aspect of a Google Business Profile is the 'Questions' section. From time to time, potential customers will ask questions about the business, just like this: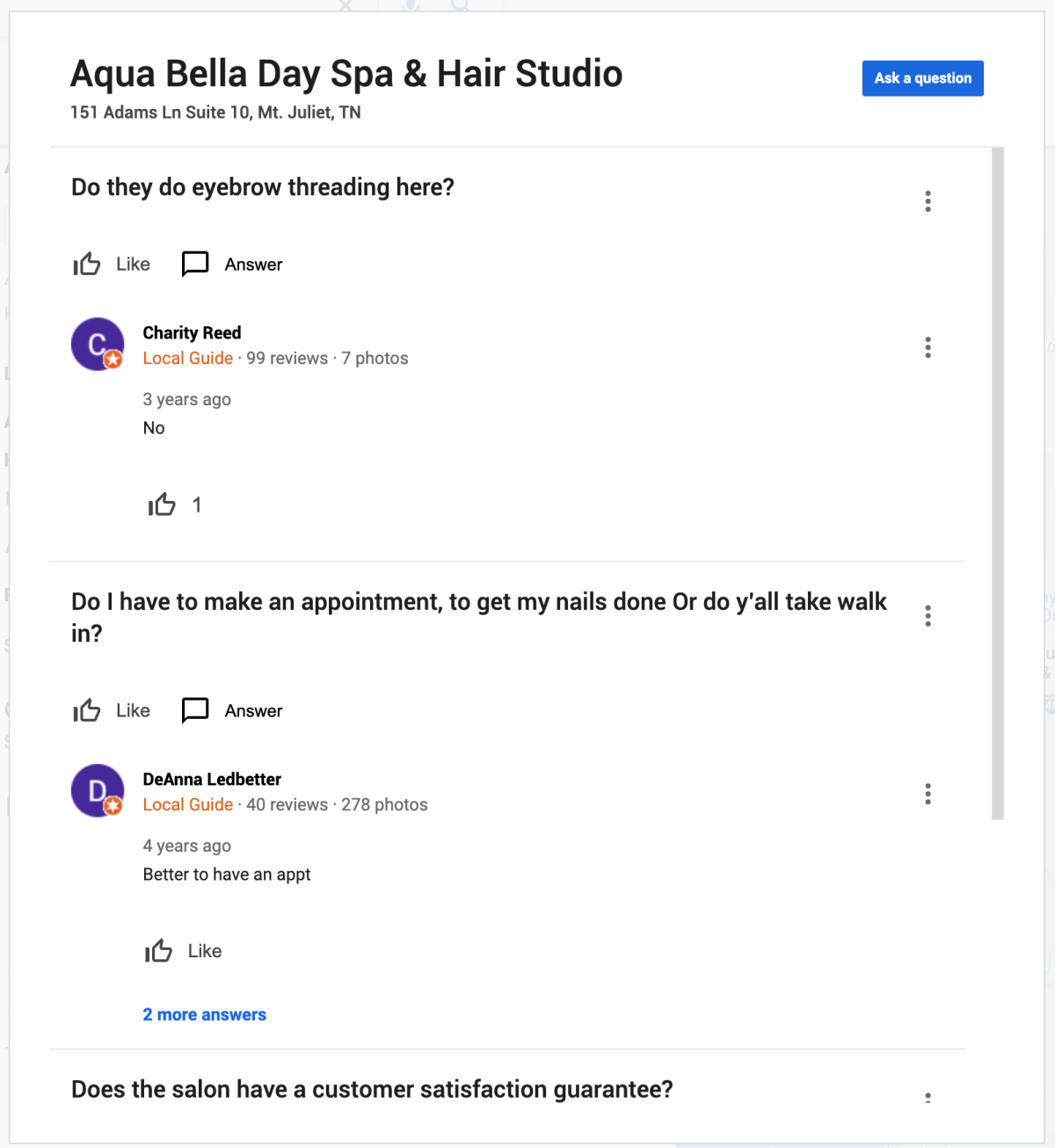 These questions can also help inform other potential customers who might be wanting to ask the same question. Google pays a lot of attention to user-sourced information, so the answers need to be accurate (or not).
Therefore, it's important that you pay attention to this section and address these questions as needed. It can not only inform a customer, but help with search results as well to further optimize what services you offer.
Add relevant attributes
Within your Google Business Profile, you can add certain attributes about your business. These include things like: outdoor seating, wheelchair accessible, payment types accepted, and more.
Now, depending on your type of business, the selection of attributes available to you will vary. For example, "take-out" only really applies to a restaurant, not a hair salon.
Be sure to add any and all attributes that might apply to your business to help optimize your Profile as best as possible.
Understanding how customers find & interact with your Google Business Profile
Once you've got your GBP claimed, setup, and verified, it's important to understand how customers are going to actually find all of this info.
Similar to what we mentioned prior, your customers are going to find your Google Business Profile by searching on Google for services in their area. In the earlier example, I searched for "hair salon near me" which populated several options for hair salons in my area.
In the "map pack" or Google Maps section that appears, is where your Google Business Profile is going to appear. This is where they'll click your business, and interact with your information, whether that's clicking to visit your website, call you, or obtain your business hours.
The additional great aspect of Google Business Profile is they provide insights on stats on how many times someone views your profile, how many times they click to call you, visit your website, or top keyword searches they're using when you appear.
Here's a snapshot of one of our GBP stats:
Treat your Google Business Profile just like you would your own website, in the sense that specific keywords you would use in your business description, ongoing updates and posts will help users better find you in their local search. Use the insights to find out how people are finding you more, and continue to optimize your profile.
The more specific and optimized your GBP is setup, the more likely you are to appear in these local map search results.
Get your Google Business Profile started!
As you can see, there are several ways you can help optimize your GBP, and help get your business noticed.
If you don't already have a Google Business Profile, don't waste any more time and claim yours as soon as possible. The sooner you take advantage, the sooner you can start getting noticed by local customers online.
Need help setting it up or managing your GBP? Get in touch and we'll be glad to help!