We've all stumbled on to a webpage that for whatever reason didn't "exist" — meaning, the link you clicked to visit, is no longer an actual page.
As a result, you get a 404: Page Not Found error message.
As the business owner of the particular website, that's not great — but it happens to all of us. We all have pages that end up having broken links over time, and it's just a result of auditing and updating your website content.
Because we all have this happen, it is the single, easiest opportunity to capture the attention of your visitor in that moment.
Here's why 404 pages happen, and why you shouldn't ignore this one page that seems irrelevant.
Why a 404 happens
The 404 error on a website appears because the link of that particular page no longer exists.
Either it has been deleted, changed, or moved — as a result of any change that's been made.
It's possible it was a limited-time sale page, or a blog post that was deleted.
Either way, that link is no longer a valid link and therefore leads you to this 404 page.
Create a custom 404 page
More times than not, the 404 page you've seen is a pretty static, kind of boring page — that just says "Page not found" with no other text or message.
Many times, as a visitor, you can feel off-put by this bland error, and cause you to just go back to where you were prior without trying to find that content anymore.
But as the business owner, this is where your golden opportunity lies to help reassure your visitor, even though they landed on an error page.
So how do you do that? You create a custom 404 page!
With a custom 404 page, you control the message — and shift it from an "error" to maybe a positive. There are several ways you can use the 404 page to your advantage, some of them including:
Promote products: Do you offer lead magnets, like a downloadable PDF? Throw this download on your 404 page and offer a special perk just for visitors to that page.
Subscribe to your newsletter: Lead your visitor into signing up for your newsletter so they'll be kept up to date with all things new on your site.
Point to a new page: Have something new you're trying to promote? Put a button on your 404 page to this page.
Besides these great ideas, there are a few benefits to actually creating a custom 404 page:
Brand consistency: Creating this custom 404 page can help create more cohesion with your brand, so this error page doesn't look foreign to the rest of your website. Utilize the same font pairings as your style guide for easy consistency.
Reduce bounce rate: More times than not, visitors just click out when they get to your 404 page — but a custom 404 page can help you retain those visitors by pointing them to a new destination instead.
Reassurance: Put your visitors at ease by making them laugh or providing value, to help them know they didn't mess anything up and to keep on browsing.
Show personality: You can use this page to show off a bit of personality. Even if you're more "professional", use the 404 page to be a little more jovial and show some character or humor.
4 Custom 404 page examples we love
We've come across a few examples of custom 404 pages online that we think do an excellent job at taking advantage of the error — hopefully you'll enjoy them to and give inspiration for your own 404 page.
Who doesn't love Disney? Check out their fun 404 page which displays characters from Disney movies, plus provides an easy way to conduct a new search to find what you were looking for initially.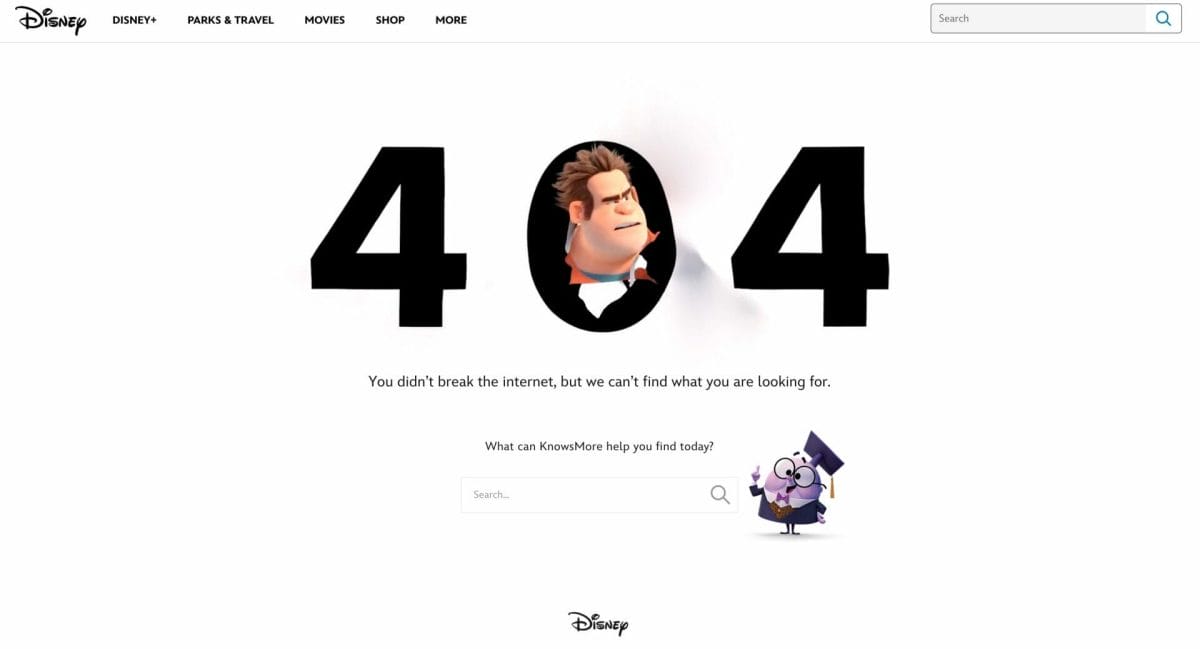 An online glasses company showcases their 404 page with a custom illustration font that plays into their product — glasses! It's super fun and very much feels cohesive to their brand. How could you be mad landing on this page?
The Apartment Therapy website has created a custom 404 page with humor — and making you laugh, will push you to stay and continue browsing.
The well-known furniture store, IKEA, kept it pretty simple, but used their actual products to create the "404" numbers. Super fun, but still provides an out for "Go Back to home" so they aren't left hanging.
Design your custom 404 page today
As you can see, there are plenty of great opportunities with your 404 error page that can turn it into a positive.
Consider your brand, your services, and your customer to help create something enjoyable to land on.
Need help designing yours? Reach out to AWD — we'd love to build a 404 page you'll want to show off!